THE PRAYER CHAIN
OLD-FASHIONED * KING JAMES BIBLE-BELIEVING * BAPTIST
LET'S DO IT!!!
PRAY AMERICA BACK TO GOD!
HAPPY EASTER!!
It's not about the Easte bunny or baby chicks or hiding eggs ... it's about Jesus Christ, our Saviour, rising from the dead! PRAISE GOD!! He died on the cross for our sins and rose after 3 days, went to heaven and is still sitting at the Father's right hand in heaven! He's not dead! Muhammad is dead! Buddha is dead! All the mortal gods of all time are dead and in their graves but Jesus is alive! He didn't stay in the grave! And, because He lives, we will live forever as well! This is only true for born again children of God who believe with all their heart that Jesus died for their sins! HALLELUJAH! WHAT A SAVIOUR!! He is coming to get us soon.... are you ready to meet Him in the air? If you have never asked Jesus to come into your heart and save you, do it right now! Scroll down to the bottom of this page and see How To Go To Heaven! when you die. It's for everyone! There is ONLY ONE way to heaven and that's by faith in Jesus' death, burial and resurrection! Forever is a long time to live in the lake of fire thinking about what you should have done. Do it now... ask Jesus for forgive you of your sins and save you from an eternity in Hell......Easter is a GREAT time to give your heart to Christ! Amen!
GLORIOUS NEWS!!
If you are a born again Christian, this will be the BEST news you will hear today! We were at Kroger last night buying a lemon meringue pie (because it was Pi day) and as we were checking out, they had a sign posted that my husband and I were reading at the same time. Kroger is all excited because "COMING SOON" they are going to have a Chip Card to use for buying groceries! Do you know what that means? JESUS IS COMING SOONER THAN YOU THINK!!! PRAISE GOD!!! The next step will be putting those chips in your hand or on your forehead probably with the number 666 on it! GLORY TO GOD! WE'RE GOING HOME!!! We are going to see Jesus and live with Him forever and ever! It is SO close! If you have never given your heart to Jesus and trusted Him as your Saviour, you need to do it RIGHT NOW....... see how at the bottom of this page!
"JESUS CHRIST THE SAME YESTERDAY, AND TO DAY AND FOREVER" HEBrews 13:8
THE SAME YESTERDAY, TODAY AND FOREVER....
* LYING WAS A SIN 100 YEARS AGO, AND IT'S STILL A SIN TODAY!
* STEALING WAS A SIN 100 YEARS AGO, AND IT'S STILL A SIN TODAY!
* ABORTION WAS A SIN 100 YEARS AGO, AND IT'S STILL A SIN TODAY!
* SEX BEFORE MARRIAGE WAS A SIN 100 YEARS AGO, AND IT'S STILL A SIN TODAY!
* MURDER WAS A SIN 100 YEARS AGO, AND IT'S STILL A SIN TODAY!
* STEALING WAS A SIN 100 YEARS AGO AND, IT'S STILL A SIN TODAY!
* ALL EVIL WAS A SIN 100 YEARS AGO, AND IT'S STILL A SIN TODAY!
* Etc. Etc. IF IT EVER WAS A SIN... IT STILL IS A SIN!

To him that knoweth to do good and doeth it not, to him it is SIN!
THE KING JAMES BIBLE WAS THE ONLY BIBLE ONE HUNDRED YEARs
AGO... AND IT'S STILL THE ONLY BIBLE TODAY!
HOW TO GO TO HEAVEN
Would you like to go to heaven when you die?
If you knew what God says about going to heaven, would you do it?
WHO IS GOOD ENOUGH?
Romans 3:10
As is it written, There is none righteous, no, not one:
WHO HAS SINNED?
Romans 3:23
For all have sinned, and come short of the glory of God.
GOD'S PRICE FOR SIN
Romans 6:23
For the wages of sin is death, but the gift of God is eternal life through Jesus Christ our Lord.
OUR WAY OUT
Romans 5:8
But God commendeth his love toward us in that, while we were yet sinners, Christ died for us.
HOW DO I GET SAVED?
Romans 10:9-11
That if thou shalt confess with thy mouth the Lord Jesus, and shalt believe in thine heart that God hath raised him from the dead, thou shalt be saved. For with the heart man believeth unto righteousness; and with the mouth confession is made unto salvation. For the scripture saith, Whosoever believeth on Him shall not be ashamed.
Romans 10:13
For whosoever shall call upon the name of the Lord shall be saved.
HOW DO I KNOW FOR SURE I AM GOING TO HEAVEN?
I John 5:13
These things have I written unto you that believe on the name of the Son of God, that ye may KNOW that ye have eternal life, and that ye may believe on the name of the Son of God.
The Bible says you can know you are saved and going to heaven by accepting Jesus Christ into your heart, and believing in His death, burial and resurrection.
Jesus died for you! All you have to do for salvation is, 1) Realize you are a sinner, 2) Ask Jesus to forgive you, and 3) Accept Him into your heart by faith. Do it right now!
Simply pray, "Lord Jesus, I know I am a sinner. I believe Jesus died for me. Please forgive me of my sins, come into my heart and save me." Believe with all your heart that Christ died for you and confess Him before God and men today and you will have a home in heaven when you die. It's that simple! Jesus paid it all! All you must do is believe He did!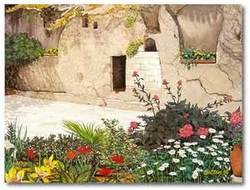 HE LIVES! HE LIVES! Christ Jesus lives today!! Above is a picture of the empty tomb where Jesus rose from the dead.....
THE PRAYER CHAIN newsletter....
JANUARY 2016
FEBRUARY 2016
MARCH 2016


Email a prayer request.....